Track Your Goals With Campaign Groups And Performance Targets
AdWords provides powerful tools to help advertisers grow their business. For example, if you're about to launch a new holiday campaign, you can use TrueView ads on YouTube along with banner ads on the Google Display Network to drive brand awareness and more holiday sales. To make it easier for you to track and forecast the performance of these campaigns against your advertising goals, we're introducing campaign groups and performance targets.
Create a campaign group
You can now package AdWords campaigns (including Video, Display, Search, and Shopping campaigns) into a single campaign group. For our holiday example, set up your YouTube and Display campaigns, select "campaign groups" from the left menu, and group those two campaigns together to create a campaign group called "Holiday Launch".
Set a performance target
Performance targets make it easier to monitor and reach your performance goals for each campaign group. Tell us how many clicks or conversions you want to receive, how much you want to spend, and what average CPC or CPA you wish to maintain. We'll then automatically show you a single view of how your campaign group is performing against those goals, and what we think you'll likely achieve by the end of the campaign period.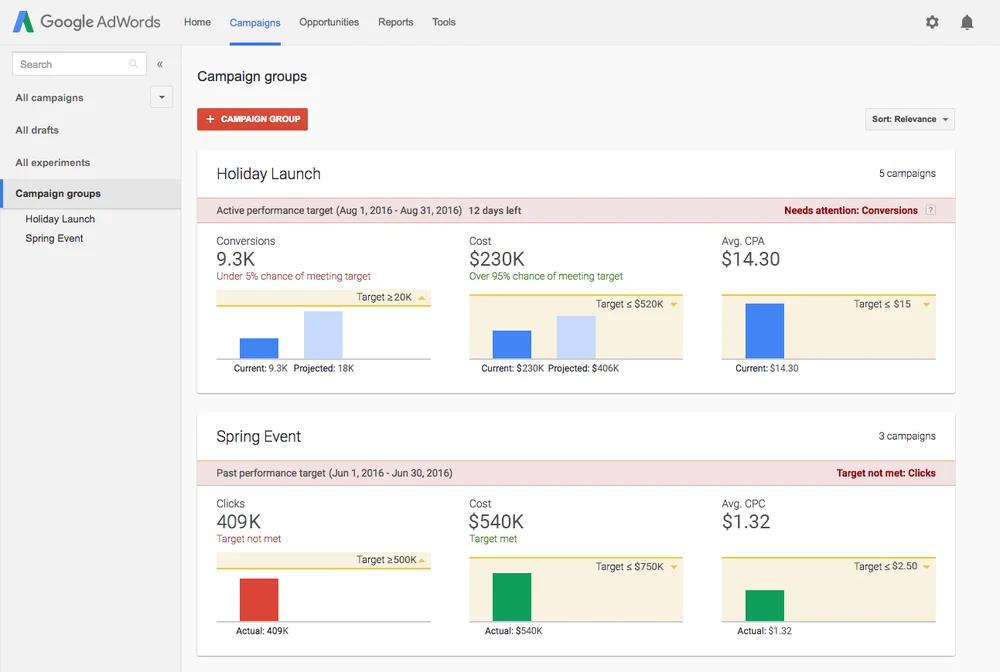 Here's an early success story for campaign groups and performance targets:

---

---
Note that creating performance targets does not change how we serve your ads or optimize your campaigns. Instead, use it to evaluate whether or not your campaigns are working together toward your broader goals.
Source: Official Google Webmasters Blog
Don't have time to manage your Google Ads, configure landing pages and analytics scripts, or worry about which version of your ad generates the best ROI? That's OK! Search Engine Pros are here to help!
Give us a call at 805-627-3255 or contact us online today.