What are the benefits of Google Shopping Ads?
If you're a retailer, you can use Shopping campaigns to promote your online and local inventory, boost traffic to your website or local store, and find better qualified leads. To get started, you'll send Google your product data with Merchant Center and create a campaign in Google Ads. Then, Google will use your campaign data to create ads on Google and around the web where potential customers can see what you're selling.
Google calls these placements "Shopping ads" because they appear in a different, more visual format. In contrast to a text ad, which displays text only. Shopping ads show users a photo of your product, plus a title, price, store name, and more. These ads give users a strong sense of the product you're selling before they click the ad, which gives you more qualified leads.
Some benefits of running Google Shopping Ads include:
Better qualified leads: As a merchant, you can increase the quality of your leads by featuring product information directly in your ads to help users make informed purchase decisions. This makes users more likely to complete a purchase on your site. For example, when Sally does a Google search for "fish bowl," she might see Shopping ads from merchants selling fish bowls. She can tell which fish bowl fits her taste just by looking at the picture. She can also quickly see whether the fish bowl fits her budget by looking at the price. This means that by the time Sally clicks on the ad, she has a good sense of the product and its cost, which puts her further down the purchasing funnel compared to the average web user.
Easy retail-centric campaign management: Instead of keywords, Shopping ads use the product attributes you defined in your Merchant Center data feed to show your ads in relevant searches. Browse your product inventory directly in Google Ads and create product groups for the items you want to bid on.
Broader presence: More than one of your Shopping ads can appear for a given user search and, if relevant, a Shopping ad and a text ad can also appear at the same time. This means your reach with users for a single search could double.
Powerful reporting and competitive data: See how your products are performing at any level of detail you want. For example, you can see how many clicks a particular brand of high-heeled shoes got just by filtering your products view—no new product groups needed. Use benchmarking data to get insights into your competitive landscape. Identify growth opportunities with impression share data and the Bid Simulator tool.
At Search Engine Pros, we make sure that you're informed about the status of your campaigns and individual ads on a regular basis, sending you full reports of all relevant data and KPIs. Additionally, we provide performance analysis from our paid social media advertising experts. Using the results from these reports, we optimize your campaign strategy to ensure that we're hitting every opportunity available.
Google Shopping Ads FAQ
Shopping ads use your existing Merchant Center product data (not keywords) to decide how and where to show your ads. The product data you submit through Merchant Center contains details about the products you sell. Google will use those details when they match a user's search to your ads, making sure to show the most relevant products.
You manage your Shopping ads in Google Ads using Shopping campaigns, a simple and flexible way to organize and promote your Merchant Center product inventory within Google Ads.
You can advertise your store and your products using 2 types of Shopping ads:
Product Shopping ads: These are created based on the product data that you submit in the Merchant Center.
Local inventory ads: These are created by combining product data and inventory data submitted in your Merchant Center account.
Just like other ad formats, your Shopping ads participate in an ad auction. You're charged using cost-per-click (CPC), which is when someone clicks your ad. So, you're charged only when someone clicks an ad that leads to the landing page on your website or to the Google-hosted landing page for your local inventory.
When you're creating your Shopping campaign, you'll decide how much you're willing to pay for each click.
You'll only pay the minimum amount necessary to rank higher than the advertiser immediately below you, and you'll often pay less than your maximum bid.
Here's where you might see your Shopping ads and free listings across the web:
The Shopping tab on Google Search (in select countries)
Google Search, next to search results (separate from text ads), and Google Images
Google Search Partner websites (if your campaign is set to include search partners), not applicable for free listings
Your Shopping ads and free listings can appear at the same time as text ads because we want to give users access to the full variety of products that match their search. This means that users can find the best match before clicking through to make a purchase, which might help you close the sale.
Example
If you sell dance shoes and have a text ad for dance equipment and a Shopping ad for dance shoes, a customer could see both of your ads on the same Google Search results page.
With app deep linking enabled, your app's users will be directed to your in-app content from your Search, Display, and Shopping ads. If you want to enable deep linking for these campaigns, create App Links for Android and Universal Links for iOS, and enable Google Analytics for Firebase to track app conversions.
There are a few requirements you'll need to meet to be able to set up a Shopping campaign and create Shopping ads.
Note: In countries that are part of the European Economic Area (EEA) and in Switzerland, you participate in Shopping ads through one or several Shopping Comparison Services of your choice. Some CSSs manage your product data and your campaigns on your behalf, while others provide tools allowing you to manage your setup yourself.
Google accounts
You'll need to set up accounts with Google Merchant Center and Google Ads, and link them together.
Policies
Your content for Shopping campaigns and Shopping ads needs to comply with the Shopping ads policies, which are different from the Google Ads policies. You'll need to make sure that your type of business, products, promotions, and website meet the requirements for Shopping ads before you begin advertising.
Product data
You'll need to send up-to-date product data at least every 30 days. This data needs to meet our standards for data quality. These standards are in place to help provide users with the best shopping experience, and we enforce the standards to help your ads perform better.
Optimize your feed: Optimize your titles (using the right structure, using language your customers use when searching for and speaking about your products, brand name, color of the product, gender (Women's Adidas XR Champion – Red). And this all, preferably in 5 words.
Optimize descriptions: Not all customers will see the description directly, only by clicking the shopping tab it will display. But, optimizing this section is still very important because Google still analyses your descriptions to figure out what it is you're offering. The description should show what your product is and how it is used. The better the information, the better your product is standing out from competitors. TIP: add videos to the description on your website (not on the feed)
Choose the best image: Really think about your image. What can you do to stand out? A/B testing can be used to get the best results (background or no background?)
Select the right Google product category for your campaign.
Deep linking: With app deep linking enabled, your app users will be directed to your in-app content from your Search, Display, and Shopping ads. If you want to enable deep linking for these campaigns, create App Links for Android and Universal Links for iOS, and enable Google Analytics for Firebase to track app conversions.
Keep products approved in Google merchant center.
Use the campaign settings: Make sure to fill out the settings as complete as possible. There are a lot of opportunities to gain from creating the right campaign settings.
Create an effective bidding strategy (CPC)
Use Negative keywords: Tell Google which keywords are irrelevant to your business. For example most advertisers will add negative keywords such as internship, DYI, hiring, etc, as general keywords which will are specified to not trigger your ads.
Get reviews: The Product Ratings program allows you to display aggregated reviews for your products to customers shopping on Google. Product ratings are shown in ads and free product listings, appearing as 1 to 5-star ratings that also display the total number of reviews for the product. Star ratings represent the aggregated rating for the product, compiled from multiple sources including merchants, review aggregators, review sites, and Google users.
Product Ratings requires that you have a minimum of 50 reviews across all of your products.
If you work with a supported reviews aggregator you can ask them to submit your product reviews to Google for you. See the list of supported reviews aggregators
If you don't work with a supported reviews aggregator, or would prefer to submit your reviews yourself, you can sign up for Product Ratings and subsequently submit your product reviews periodically through Merchant Center. For this option, you should have a Merchant Center account associated with your business website.
If you don't currently collect reviews for the products you sell, you can begin doing so for free by signing up for Google Customer Reviews.
Learn more about submitting product reviews data
Ratings and reviews are matched to products based on a number of factors, the strongest being globally unique product identifiers such as GTINs (Global Trade Item Numbers). Without GTIN data, Google will attempt to match a review through other information such as SKU (Stock Keeping Unit), Brand + MPN (Manufacturer Part Number) pairs, and product URLs. However, these identifiers generally do not offer as good a match as GTINs. Without GTINs Google may not be able to match all of your reviews to products. Learn more about unique product identifiers
Reviews and star ratings may not always show. Google will display star ratings when the system determines that the information is accurate and relevant for customers' needs.
Note: Reviews aren't verified by Google.
Smart Shopping campaigns will be automatically upgraded to Performance Max starting in July 2023. It would be prudent to upgrade Smart Shopping campaigns in the coming months using Google's new, one-click tool to unlock additional inventory and formats that reach new customers. Advertisers who upgrade their Smart Shopping campaigns to Performance Max see an average increase of 12% in conversion value at the same or better return-on-ad-spend (ROAS). Learn more.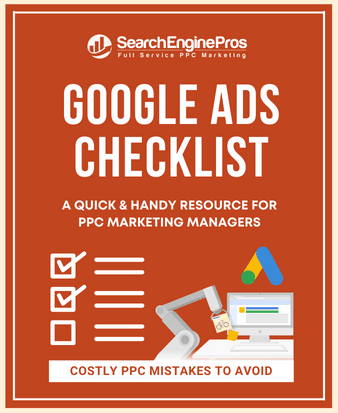 Request Marketing Proposal
We'll get back to you within a day to schedule a quick strategy call. We can also communicate over email if that's easier for you.
Visit Us
Search Engine Pros
101 Burton Circle
Santa Barbara, CA 93101
View On Map
Sales Inquiries
sales@thesearchenginepros.com
Phone: (805) 627-3255
Support Inquiries
support@thesearchenginepros.com
Phone: (805) 627-3255
❝ At Hazelwood Allied Moving and Storage, customer care and satisfaction are our primary goals. We expect the same service from our providers, which is why we chose a first class agency like Search Engine Pros to help us with our digital marketing campaigns. ❞
❝ Search Engine Pros are a rare gem of a company. They realize the power of exceeding expectations with clients. We ordered their PPC services and found them to be knowledgeable, helpful, friendly and results-oriented. Thank you Search Engine Pros for helping me! ❞
Founder Beach Cities Insurance
❝ We use Search Engine Pros to help us stay on the top of the Google Listings and other search engines. They do a fantastic job at keeping our costs down and our clicks up! ❞
Owner Brezden Pest Control
❝ Selling teeth whitening products to dentists online requires a specialized approach with messaging. Search Engine Pros took the time to understand our audience and helped us grow our business with Google Ads. ❞