Power your holiday strategy with helpful insights
This year's holiday shopping season is shaping up to be one of the biggest yet. In fact, 53% of consumers plan to shop online more this year compared to last year.1 To help you prepare, check out the Google Shopping Holiday 100, featuring our predictions for the most popular categories and products in the U.S. this holiday season.
The Holiday 100 is a great way to help you understand what people are shopping for. The Insights page in Google Ads was designed to keep businesses up to date on similar trends and insights, which is especially useful during the holiday season. In the coming weeks, you'll see four new features roll out on the Insights page globally to help you drive results this holiday season and beyond.
Demand forecasts (beta): Previously, the Insights page focused on historical performance — trends that explained why your ads performed the way they did. Now, you'll see more forward-looking trends with demand forecasts (beta). By combining machine learning technology with past seasonal search trends, these forecasts predict emerging search interest over the next six months. These insights are personalized to your business, meaning that you'll see trends based on the categories where you advertise.
For example, let's say you're a beauty retailer. You might see a prediction that search interest in "perfumes & fragrances" will start to trend in the middle of November with an increase of 27%. Interest then peaks to 93% on Black Friday and tapers off in the following weeks. To help you understand this forecast, you'll see trendlines for predicted search interest, actual search interest, and your clicks (the amount of traffic you've already received from this trend).
On the right side of the page, you can view trend details to see the specific searches that are predicted to increase — like "clean perfume" or "sandalwood." These insights help you better prepare your budgeting, marketing and merchandising plans to meet the rise in consumer demand.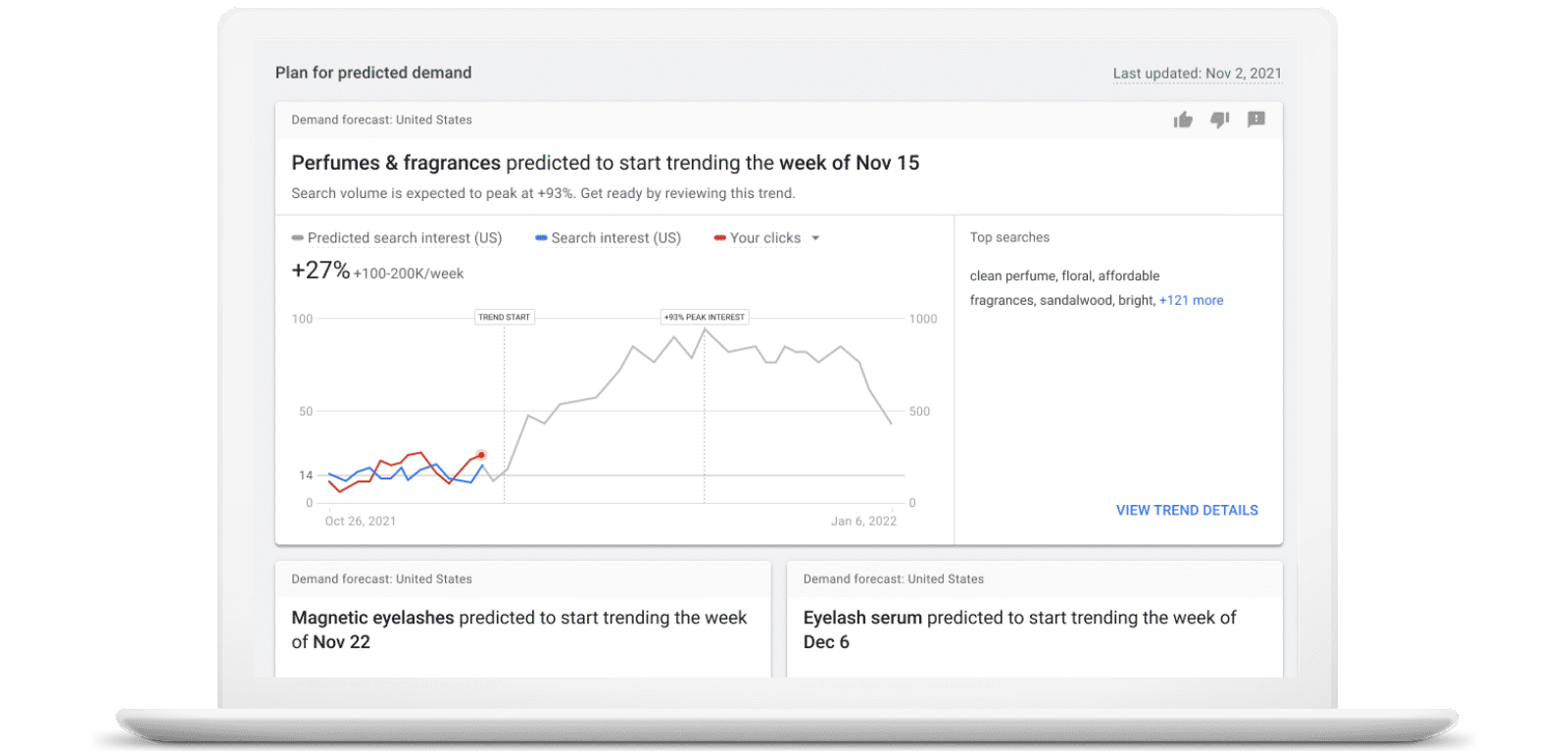 Consumer interest insights (beta): Are you interested in learning how people search for your business? Consumer interest insights (beta) aggregate and anonymize the top-performing search query themes that drive performance in your campaigns. You'll see the number of people who searched for each theme, its growth, and how it performed in your account.
As that beauty retailer, you might see that the top themes in the "perfumes" category are "affordable" and "floral," and that your overall impressions for the theme increased by 12%. These themes can be found in the search themes section of the page, and can help you update your marketing and product feed copy to include similar words and phrases.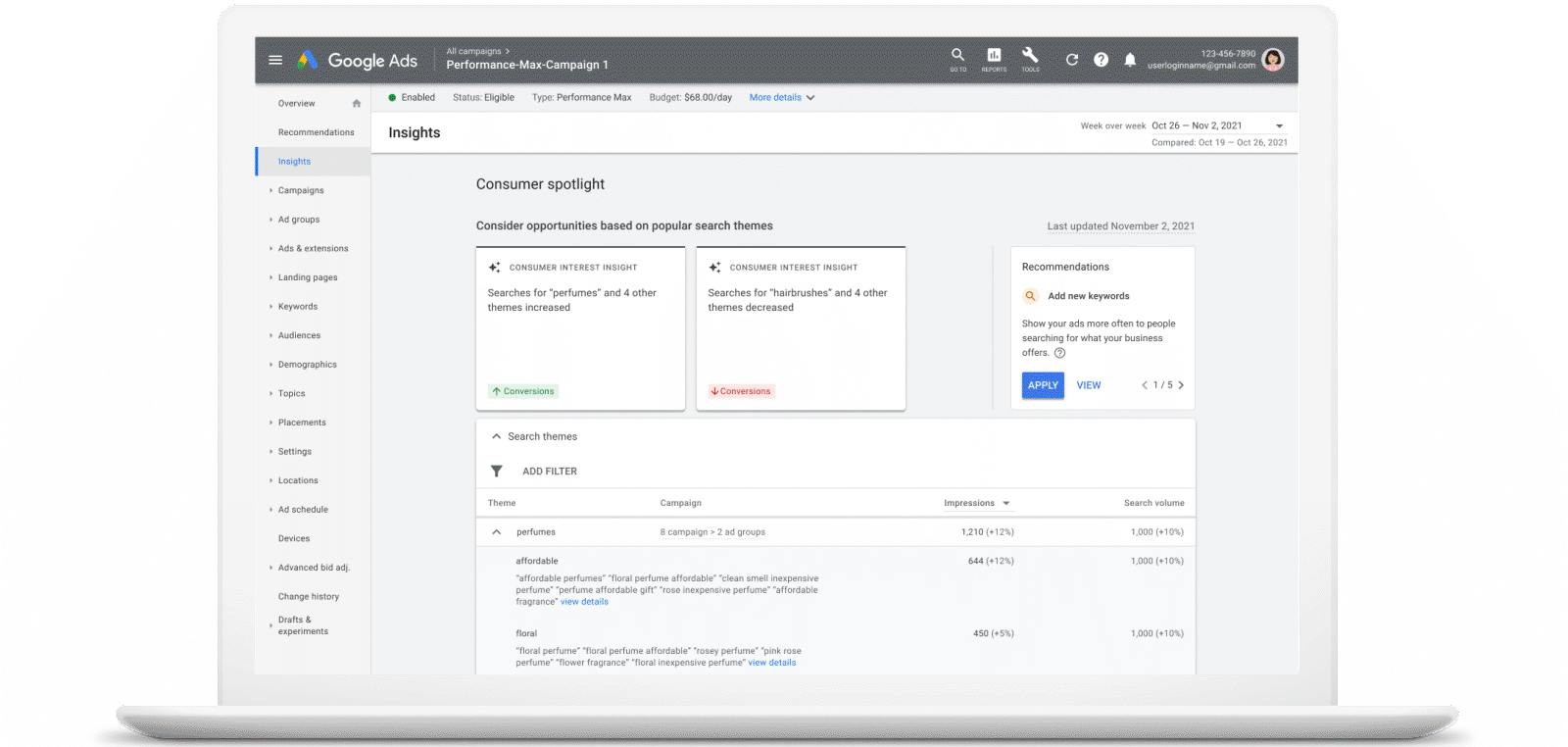 Audience insights (beta): With audience insights (beta), you can understand more about the interests and affinities of your customers, including what creative resonates the most with them. As the beauty retailer, for example, you might discover that people interested in beauty products prefer the headline "10 must-buy winter fragrances" — and that the audience took part in 57% of the conversions in your campaign.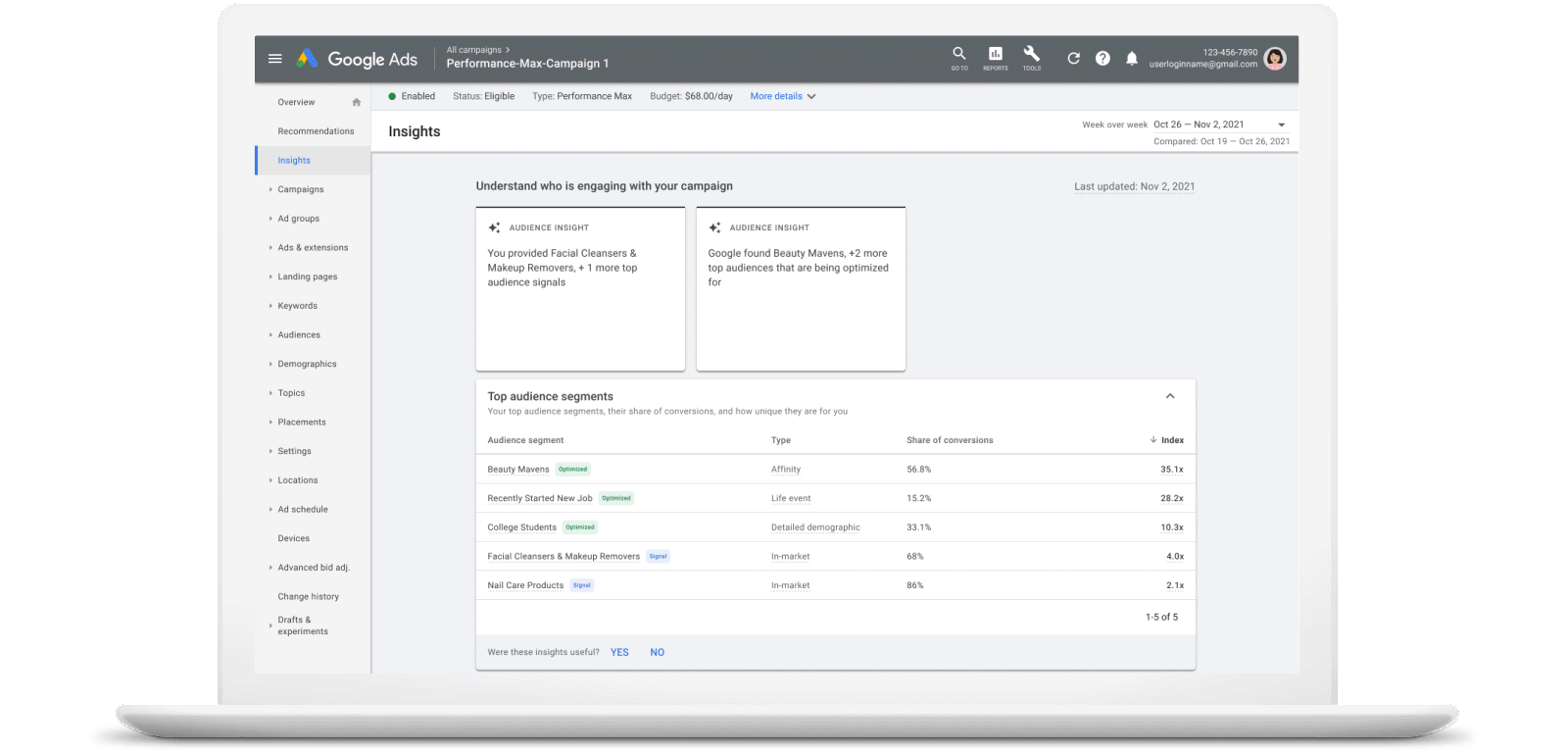 Change history insights and auction insights (beta): Now, you can find both change history insights and auction insights throughout the Insights page. This can help you understand how shifts in auction competition or changes you made in your account impacted performance.
Many businesses are already using the Insights page to drive growth. Etsy saw an increase in searches for "Sweatshirts & Hoodies" on the Insights page and used that information to help inform their website merchandising, content strategy and ad copy. This contributed to a 49% lift in sales for Google Search and Shopping campaigns in that sub-category.
These updates will launch in the coming weeks at both the campaign and account level. In the meantime, visit the Insights page on Google Ads to check out the latest trends for your business.
Source: Official Google Webmasters Blog
Don't have time to manage your Google Ads, configure landing pages and analytics scripts, or worry about which version of your ad generates the best ROI? That's OK! Search Engine Pros are here to help!
Give us a call at 805-627-3255 or contact us online today.