New Ad Formats And Targeting To Find, Keep And Monetize High-Quality Gamers
When mobile users are looking for entertainment they often turn to gaming apps. In 2015, an estimated 41% of all apps downloaded were games.1 However, while a user may be excited about downloading an app, it can soon be forgotten; studies have shown that 1 in 4 installed apps are never used.
For game developers, building a successful business has often depended on an approach of acquiring as many users as possible, then trying to keep them engaged in the game as their interest wanes. While volume is important, it's more important to find the right kind of user, who'll open the app and keep on playing. That's why today, at the Game Developers Conference (GDC), we announced a host of new features in AdWords and AdMob that make it simpler for developers to reach the right users at scale.
Let users try your app before downloading from Google Search
We recently introduced Trial Run Ads on the Google Display Network which let users stream your game from a display ad for your app before they download. In the next few weeks, we'll extend these ads to search results on Google as a beta for selected U.S. advertisers. With Search Trial Run Ads, when a user searches for a game on Google, they can click 'Try Now' from within a search ad and try the app before installing it, similar to streaming apps from organic results. These ads will appear to smartphone users on WiFi, and the user can play for up to 10 minutes, then download the app in full if they choose. This format drives highly-qualified users who are more likely to stay engaged with the app after install. Contact your Google representative to learn more about using this new format.
Showcase your game with portrait videos
More than 80% of video ad views in mobile apps on the Google Display Network are from devices held vertically, but often, the videos are created for landscape viewing. Over the next few weeks we're launching Portrait Video Ads so users have a full-screen, immersive portrait video experience without having to re-orient their device. We've seen significant improvement in both click-through and conversion rates from game developers using Portrait Video, resulting in much lower cost per install and a larger number of downloads.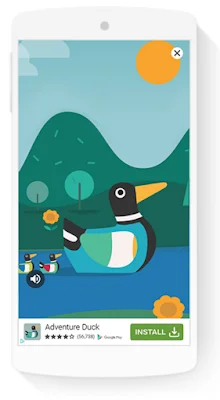 Promote your app to game-lovers
Advertisers have long been able to control who sees their AdWords ads, and in the coming weeks we'll be launching even finer options to reach high-quality users with Active User Targeting for Games. This new type of targeting for Android apps can show ads to users who have spent more than 30 minutes playing games, or who have played a Google Play Games integrated game in the last 30 days. Game developers can show their ads to game lovers, and combined with other types of targeting, such as a particular game category (e.g., Adventure), they can reach a very precise audience.
Earn money from rewarded ads with AdMob Mediation
AdMob helps app developers around the world earn through in-app advertising with best-in-class formats and smart tools to maximize revenue. Increasingly, rewarded advertising is becoming a popular form of game monetization: users are given the choice to engage with ads in exchange for in-app rewards. Today, we're introducing a way for developers to easily monetize apps with rewarded video ads from a number of ad providers in AdMob Mediation.
Supported networks and platforms include AdColony, AppLovin, Chartboost, Fyber, Upsight, and Vungle, with more being added all the time. So if you're a developer monetizing with these providers, you can easily manage and optimize them through the AdMob interface. It's part of our ongoing commitment to provide app developers with a first-class mediation solution, and follows our recent launch enabling SDK-less mediation.
We're working closely with developers to innovate our ad solutions and help them build strong businesses. If you're a game developer, come and meet with our ads teams at GDC at the Google booth between Wednesday and Friday, to discuss developing great games, growing your user base and earning more money. We'll have a series of great talks in our booth mini-theater each day, and on Thursday morning we'll be part of the main GDC sessions, with a discussion on user acquisition and monetization.
---
1 App Annie, Mobile App Forecast, Feb 2016
Source: Official Google Webmasters Blog
Don't have time to manage your Google Ads, configure landing pages and analytics scripts, or worry about which version of your ad generates the best ROI? That's OK! Search Engine Pros are here to help!
Give us a call at 805-627-3255 or contact us online today.