It's Faster And Easier To Use Ads Data Hub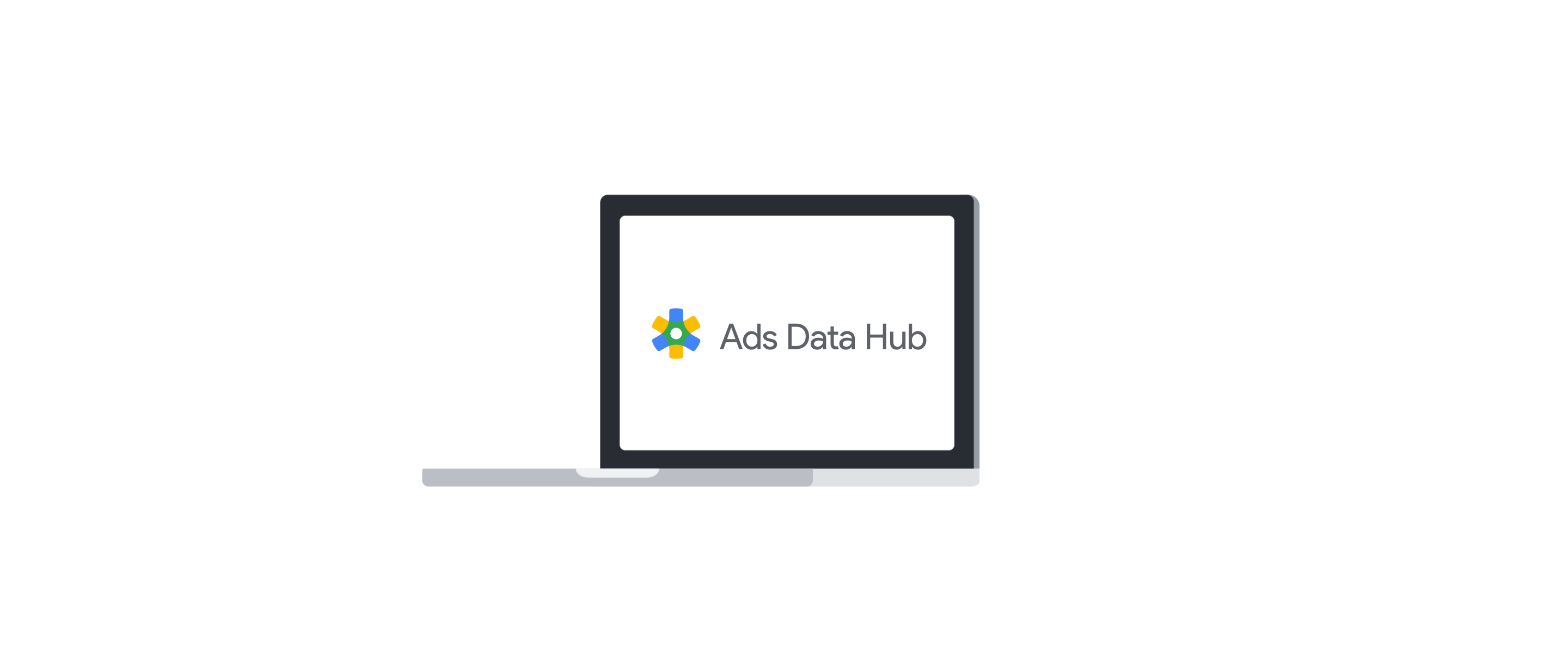 Advertisers tell us that understanding the business impact of their marketing is more important than ever. But they also report that it's becoming more difficult as the industry—in response to growing concerns about privacy—changes its practices around how data is collected and used. Ads Data Hub enables customized analysis of your Google ad campaigns while protecting user privacy and upholding Google's high standards of data security.
Today, we're providing an update on improvements to Ads Data Hub that help you analyze data more quickly and easily, better understand the way that people interact with your ads, and use insights from your data to reach the right customers. With these updates, you can tailor your measurement to your unique business needs, understand how your marketing is performing, and drive the greatest business impact.
Improvements to help you analyze your data faster and easier
Over the past year, we've been investing in the infrastructure that underlies Ads Data Hub to make it available to a larger number of customers and simplify the process of writing queries. Over 200 brands, agencies and measurement partners are actively using Ads Data Hub today. And usage continues to increase, with successful queries up over 145 percent in 2019 compared to 2018. But we've heard from customers that we need to make it faster and easier to run analysis.
In the coming weeks, we'll add self-service account linking for Google Ads, Campaign Manager, and Display & Video 360, so you can more easily access your Google ad campaign data across multiple products in a secure, privacy-centric environment. This includes allowing you to create multi-tier account structures, which adds flexibility to how brands and agencies can configure ads data within Ads Data Hub to address unique account hierarchies and user access requirements.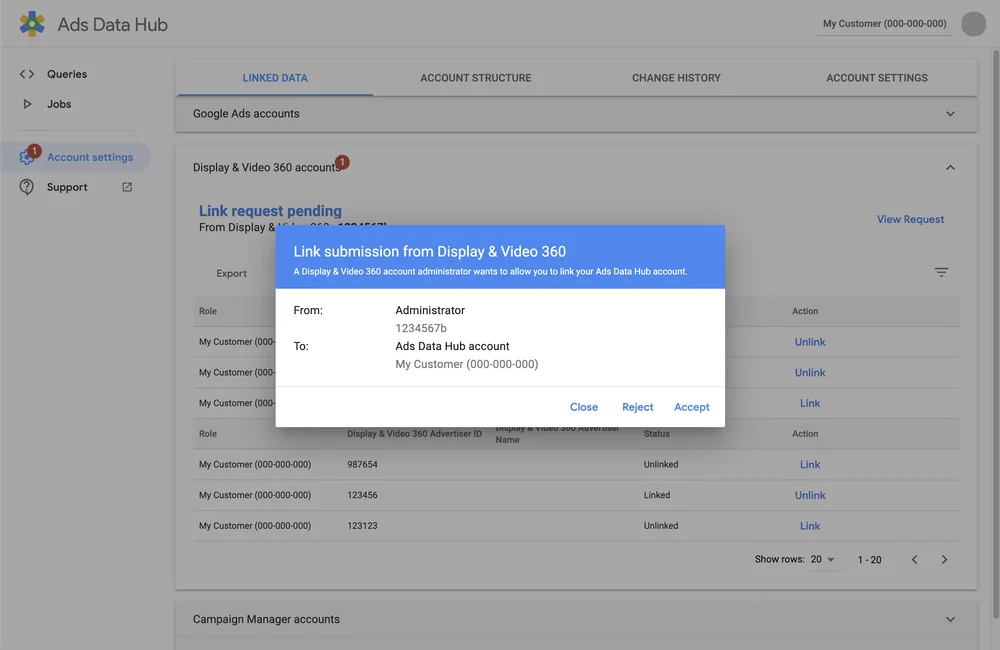 We're making it easier to run analysis with a Sandbox environment, which recently rolled out to all customers. This environment includes a test dataset and can be used to experiment with data and query development, which can help make execution faster by giving you a better understanding of the types of queries you can write and insights you can get in Ads Data Hub.
We've also launched a new query library that gives you access to over 20 templates for the most common types of analysis run in Ads Data Hub. For example, the All events template can be used to get impressions, clicks, conversions and Active View stats for a specific account. Ads Data Hub users can also suggest new templates directly via the in-product feedback form.
Query templates help you write and run queries for the most common types of analysis:
A frequent request we've heard from customers is to be able to access and analyze ad data closer to real-time. To address this, we've brought latency down from 24-48 hours to 6 hours for display and YouTube ads data from Google Ads, as well as for data from YouTube ads bought via Display & Video 360. That means, if an impression was served at 8am, you can query data associated with that impression from 2pm on the same day.
New ways to understand the consumer journey
Manually stitching together event-level data from Campaign Manager and Display & Video 360 to reconstruct the path to purchase is possible today in Ads Data Hub, but it can be time-consuming and difficult. That's why we've introduced consumer journey paths, a set of pre-processed data that automatically join impression, click, and conversion events together if they're part of a single journey. This will help advertisers get valuable insights about the consumer journey faster and with higher quality output than manual approaches, and is available to all Ads Data Hub customers that have Campaign Manager and Display & Video 360 data enabled in their account.
To cover more of the ways people interact with media and your brand, we're expanding beyond computer, mobile and tablet device measurement to include TV screens. This includes coverage for connected TV and gaming consoles. These devices are becoming a bigger part of many media plans, so understanding their role in delivering value for your business is also becoming more important.
Today, Ads Data Hub includes key advertising metrics such as viewability, impressions, clicks, and conversions from display and video ads in Google Ads, Campaign Manager, and Display & Video 360. And in the coming months we're enabling more measurement use cases by adding advanced Active View metrics for YouTube—including viewability and audibility metrics—that allow you to uncover deep insights into creative performance and user attention.
Reach the right customers with customized audience list creation
Beyond measurement, one of biggest pieces of feedback we've heard from customers is that they'd like to take action on the insights they uncover in Ads Data Hub, while protecting user privacy. We've begun a test to allow a limited group of customers to build audience lists based on clicks or conversions from Google Ads, Campaign Manager, and Display & Video 360, and use these audience lists to inform who sees display ads in Google Ads and Display & Video 360. For example, you could create an audience list in Ads Data Hub of users that have already purchased your product, then use that as an exclusion list to ensure you don't continue to show them your ads served via Google Ads and Display & Video 360.
User privacy protections are deeply embedded across all of these features, and—as always—there's an aggregation requirement for output of any data from Ads Data Hub. Over time, we'll continue to evolve the capabilities of Ads Data Hub by providing access to additional ads datasets and developing deeper integrations across our ad platforms.
Source: Official Google Webmasters Blog
Don't have time to manage your Google Ads, configure landing pages and analytics scripts, or worry about which version of your ad generates the best ROI? That's OK! Search Engine Pros are here to help!
Give us a call at 805-627-3255 or contact us online today.