Introducing A New Transparency Report For Political Ads
We first launched our Transparency Report in 2010 with the goal of fostering important conversations about the relationship between governments, companies, and the free flow of information on the internet.
Over the years, we've evolved the report, adding sections about content removed from Google Search due to European privacy laws, adoption of encryption on websites (HTTPS), and more. And today, we're adding another new section to our Transparency Report: Political Advertising on Google.
Earlier this year, we took important steps to increase transparency in political advertising. We implemented new requirements for any advertiser purchasing election ads on Google in the U.S.—these advertisers now have to provide a government-issued ID and other key information that confirms they are a U.S. citizen or lawful permanent resident, as required by law. We also required that election ads incorporate a clear "paid for by" disclosure. Now, we're continuing to roll out new transparency features with the addition of the political advertising report as well as a new political Ad Library.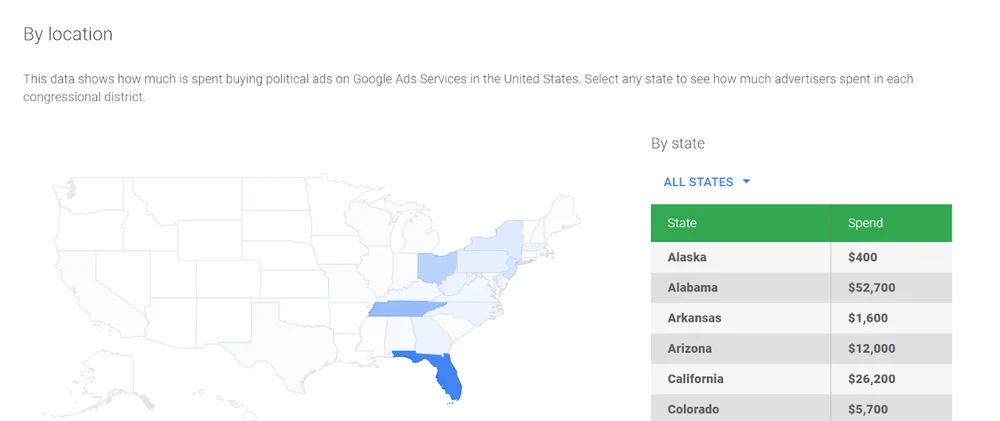 The new political advertising report shows who buys federal election ads in the U.S., how much money is spent across states and congressional districts on such ads, and who the top advertisers are overall. We designed this report for anyone interested in transparency—the information is searchable and downloadable, so that you can easily access and sort through the data. We're updating the report every week, so as we head into election season, anyone can see new ads that get uploaded or new advertisers that decide to run Google ads.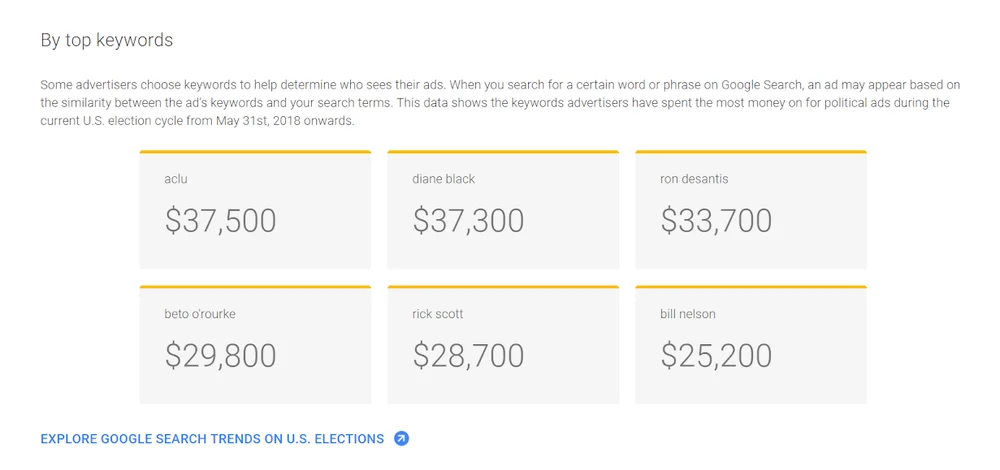 Meanwhile, our new, searchable election Ad Library shows things like which ads had the highest views, what the latest election ads running on our platform are, and deep dives into specific advertisers' campaigns. In addition, the data from the report and Ad Library is publicly available on Google Cloud's BigQuery. Using BigQuery's API, anyone can write code and run their own unique queries on this data set. Researchers, political watchdog groups and private citizens can use our data set to develop charts, graphs, tables or other visualizations of political advertising on Google Ads services. Together with the Transparency Report, we hope this provides unprecedented, data-driven insights into election ads on our platform.
Even though the political advertising report and Ad Library provide many new insights, we know there is more work to be done.
We're working with experts in the U.S. and around the world to explore tools that capture a wider range of political ads—including ads about political issues (beyond just candidate ads), state and local election ads, and political ads in other countries. We're also continuing to share our Protect Your Election tools to safeguard campaigns from digital attacks. As we approach the 2018 midterm elections in the U.S, we've introduced new tools to help protect political campaigns, provide voters with accurate information, and increase transparency on our platforms, and we'll continue to do more.
Source: Official Google Webmasters Blog
Don't have time to manage your Google Ads, configure landing pages and analytics scripts, or worry about which version of your ad generates the best ROI? That's OK! Search Engine Pros are here to help!
Give us a call at 805-627-3255 or contact us online today.