Improve How You Plan, Buy and Measure Your CTV Campaigns
We're sharing new features in Display & Video 360 that advertisers have been using to plan, buy and measure their connected TV campaigns.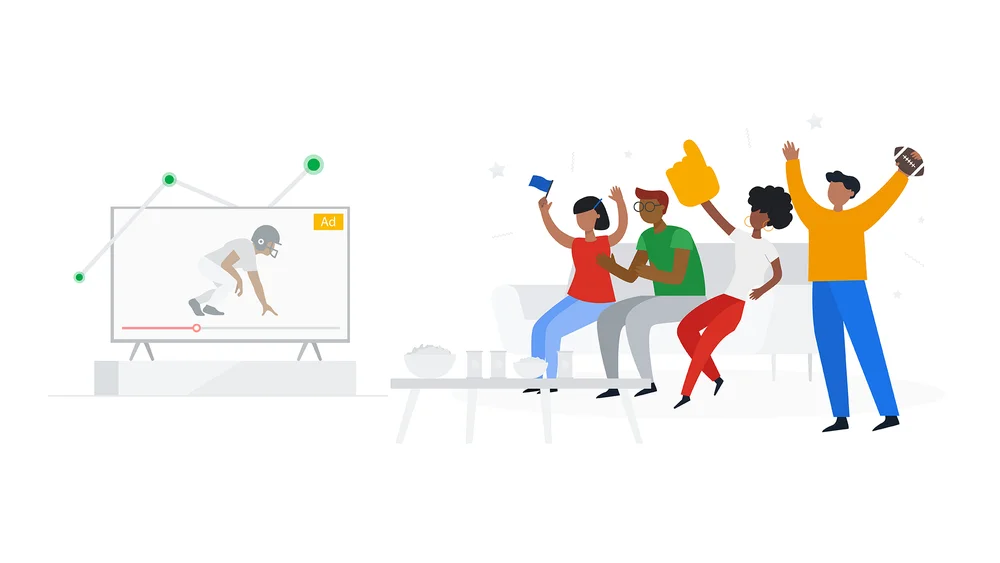 Last December I tuned in from London to see Argentina win the 2022 FIFA World Cup Final, watching the game live on TV alongside almost 1.5 billion other people around the world. And on Sunday, many of our friends across the pond watched in excitement as Kansas City won Super Bowl LVII. Not only were sports fans captivated by these live events, but advertisers were too. That's because these events bring a huge number of people to television screens at the same time — giving advertisers a prime opportunity to engage with them.
With the shift to streaming over the last few years, an increasing number of advertisers have prioritized building connected TV (CTV) campaigns into their media strategies. Let's take a look into some new features in Display & Video 360 that advertisers use to plan, buy and measure CTV campaigns.
Plan: Simplified reach and forecasting
Planning is a critical entry point of any digital campaign and it's imperative to get it right. Advertisers use Reach Planner in Display & Video 360 to accurately forecast the reach and expected performance of CTV campaigns. It helps advertisers discover new publishers and CTV inventory and drive more efficient budget allocation decisions.
TV functionality in Reach Planner makes it possible to evaluate the unique and incremental reach of streaming publishers including YouTube, Hulu, Roku alongside linear TV. This feature is now generally available to advertisers in the US, Japan, Vietnam, France and Germany. Advertisers in the US looking for more granular reach can connect with the right audiences thanks to TV consumption data from the top 150 local Comscore markets directly in Reach Planner.
Advertisers can also use Reach Planner to gain insights into potential performance before campaign spending. It now supports Deal ID forecasting, helping advertisers understand how a Preferred Deal or Programmatic Guaranteed deal might perform before running. This is particularly important for CTV inventory where much of the high-value inventory is transacted through deals, especially in tentpole moments like the World Cup or Super Bowl.
Buy: Easier booking for premium placements
According to Nielsen's total TV and streaming report, YouTube is the leader in streaming watch time in the US1 and advertisers have been turning to YouTube to reach a broad audience of viewers. In order to guarantee delivery at a fixed CPM, many advertisers reserve YouTube CTV inventory directly from Display & Video 360 with Instant Reserve which reduces the time to reserve YouTube inventory from weeks to minutes. Instant Reserve also unlocks audience targeting capabilities that were previously only available for open auction buys.
We've heard from many advertisers that they want even more YouTube inventory available through Instant Reserve, so we've added the ability to target some of the most popular YouTube streaming content like YouTube TV and other YouTube Select lineups, as well as premium formats like YouTube Masthead. Now, advertisers can seamlessly activate their brand's message across curated YouTube packages and on YouTube's high-impact home screen placement — helping to achieve their reach and awareness goals.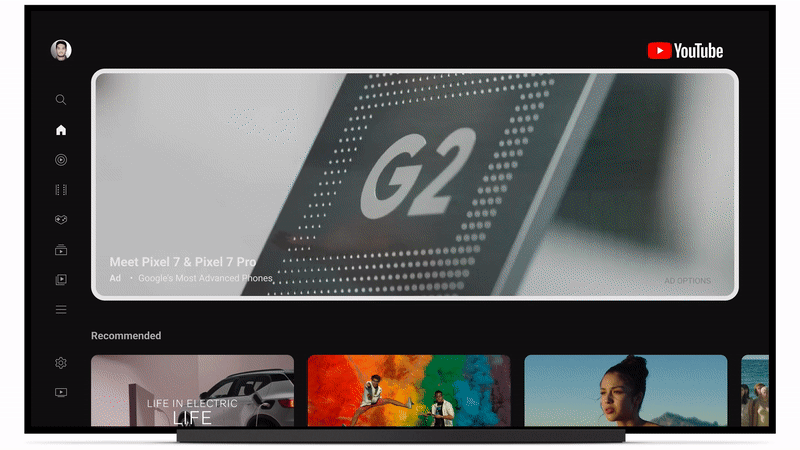 Besides Instant Reserve, another way to secure premium CTV inventory is by creating deals or activating inventory packages in the TV section of Display & Video 360's Marketplace. The Marketplace helps advertisers find CTV inventory that can help them meet their campaign objectives. We recently added an audience filter to make it easier for you to find inventory packages and view forecasting against third-party audiences.
For advertisers who want to reach audiences wherever they stream connected TV content — like YouTube or other quality content like Disney or Tubi — we recently launched CTV audience features in Display & Video 360. First, advertisers can use their first-party audience lists to connect with people with whom they already have relationships by adding their lists to their insertion orders or line-items in their campaigns. Then, they are able to expand the reach of their CTV campaigns to reach groups like "sports enthusiasts" through Google audiences.
Measure: Make your CTV budget go further
As households subscribe to an increasing number of streaming services, it's important to manage ad frequency across CTV apps. Display & Video 360 can help manage ad frequency on CTV devices. For example, Uber Eats set a cross-channel frequency goal on a recent campaign and Display & Video 360 and passed on impression opportunities once that frequency goal was met, allowing it to unlock 10% greater reach.
Once advertisers manage ad frequency, they can use reach reports to measure the impact of those frequency settings on CTV campaigns. The Unique Reach report shows how many people were served your ad, along with the number of times across devices and formats.
Our most recently released report, Unique Reach Overlap, identifies the duplication of unique reach across publishers, campaigns and devices — including CTV. These insights help advertisers determine campaign-level frequency caps. This reduces overlap across publishers, reduces media waste and helps to identify which publishers and strategies are driving the greatest incremental reach. Not only is this report available globally for all Display & Video 360 accounts, it's also available in Campaign Manager 360.
Get your next CTV campaign started today
With this comprehensive set of features to help you plan, buy and measure, it's easier than ever to get your next CTV campaign up and running with Display & Video 360. Better forecasting, extended reach, streamlined reservation flows with increased inventory and deeper insights can help boost your campaigns for even more meaningful audience connections. Want to better understand the CTV opportunity and how it can amplify your marketing goals for this year? Check out our new CTV playbook.
Source: Official Google Marketing Platform Blog
Don't have time to manage your Google Ads, configure landing pages and analytics scripts, or worry about which version of your ad generates the best ROI? That's OK! Search Engine Pros are here to help!
Give us a call at 805-627-3255 or contact us online today.