Click-To-Message Ads Bring A New And Easy Way To Talk To Customers
If you're inviting a friend to dinner or asking them about the best hotels in New York City, you're probably doing it through mobile messaging. Nearly two thirds of smartphone owners use messaging more than five times a day to communicate with others.1 And people aren't limiting their use of messaging to social communications – 65% of consumers say they'd consider using messaging to connect with a business to get information about a product or service, or to schedule an in-person appointment.2
In the coming weeks, we're introducing click-to-message ads to bring the efficiency and effectiveness of messaging to search ads. By setting up a message extension, you'll give users an easy way to text you to start a conversation and continue it whenever is most convenient for them.
Tapping on the texting option launches a user's SMS app with a pre-written message tailored to the product or service they're interested in. For example, if you're a travel advertiser and someone messages you after searching for New York City hotels, they can send or edit your pre-written message text, "I'm interested in a reservation. Please text me back with more information."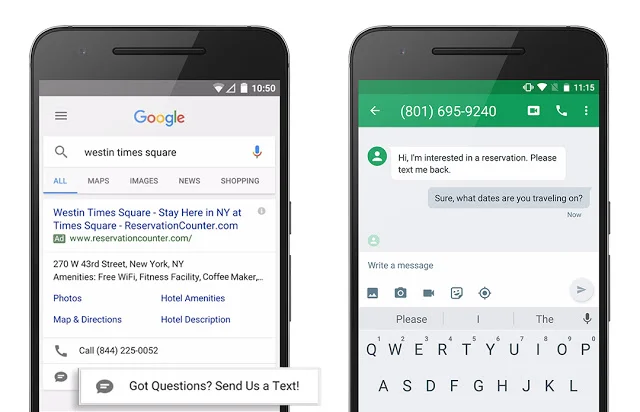 Many advertisers are already using click-to-message ads to take advantage of a new and faster way to connect with consumers on mobile to increase conversion rates: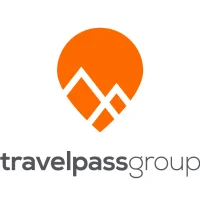 "Click-to-message ads have proven to be a great way to help prequalified customers start the hotel reservation process in a way that is convenient and easy for them. They can text an agent to get questions answered, continue the conversation on their own timetable, and trade booking information before completing the final checkout over the phone or on our website. It's a seamless and streamlined process that helps increase brand trust. The conversion rate on message extensions is 41% higher compared to other ad extensions. Paired with customer support software, they've also allowed our agents to respond to requests in a more efficient and cost-effective way. "
– Gabe Thayn, Director of Search Marketing, TravelPASS Group

"Click-to-message is a useful tool that allows consumers to engage with our business in a way that's comfortable and efficient for them. They could be on their commute or in a rush, so they can text us quickly through click-to-message. It's also a good medium to get questions answered that aren't addressed on our website, or to reach us during hours when our office is closed. Our main performance objective is to help customers as much as possible – when we take care of their questions and needs in a helpful, relevant way, that leads to better business results."
– Gavin Chan, Digital Marketing Manager, AnyVan

"The results from click-to-message have been phenomenal and we've seen a 80% higher conversion rate when compared to other similar channels. We can now tap into an important consumer base that prefers to use SMS to learn more about our insurance products. Besides giving users a new way to get in touch with us, we feel this is by far the fastest and most cost-effective way to connect with them."
– Gavin Parker, Paid Search Manager, Auto & General

"We started testing click-to-message as soon as we heard about it. Text messaging is a popular medium of communication among young professionals and the opportunity to engage them through SMS is very exciting. We sell industrial equipment and supplies, which can be very technical. Sometimes customers don't have time to talk over a web chat or phone conversation, but still need more information. Messaging helps simplify these exchanges and the customer response has been very positive since they can post a question and follow up in their own time."
– Ashar Mairaj, VP of Marketing, Global Industrial
Mobile users have more flexibility than ever to choose how they want to connect with businesses. Through messaging, you can initiate valuable conversations with them by tapping into one of their most preferred modes of communication. Learn more about click-to-message ads by visiting the Help Center. Also read our new best practices to learn how to use click-to-message ads to build a faster consumer experience on mobile and deliver useful information that gets customers closer to purchasing.
---
1. Google Consumer Surveys, US, Canada, UK, Australia, October 2016, Base: Respondents who own a smartphone and use it to access the Internet (n = 1,262 in US, n = 1,222 in UK, n = 567 in Canada, n = 563 in Australia)
2. Google Consumer Surveys, US, Canada, UK, Australia, October 2016, Base: Respondents who own a smartphone and use it to access the Internet (n = 1,036 in US, n = 1,032 in UK, n = 489 in Canada, n = 485 in Australia)
Source: Official Google Webmasters Blog
Don't have time to manage your Google Ads, configure landing pages and analytics scripts, or worry about which version of your ad generates the best ROI? That's OK! Search Engine Pros are here to help!
Give us a call at 805-627-3255 or contact us online today.