Bring More Foot Traffic To Your Business With YouTube And Display Ads
This year, around 90% of global sales will happen in a physical store.1 To bring more shoppers through the door, businesses need tools to efficiently reach nearby consumers and measure their campaign performance across channels. That's why we introduced store visits measurement back in 2014. Since then, businesses around the world have measured over 7 billion store visits in AdWords.
Unlock offline results with YouTube
As we shared at Shoptalk Europe today, location extensions and store visits measurement are now available on YouTube. With YouTube's first-ever ad extensions for TrueView in-stream and bumper ads, you can influence viewers to engage with your brand offline and drive more visits and in-store purchases. People watching your videos will see your address, directions and business hours—right in the ad. You can then use store visits measurement to see how your video campaigns drive foot traffic and measure their performance against other online and traditional marketing channels, like television, print and radio ads.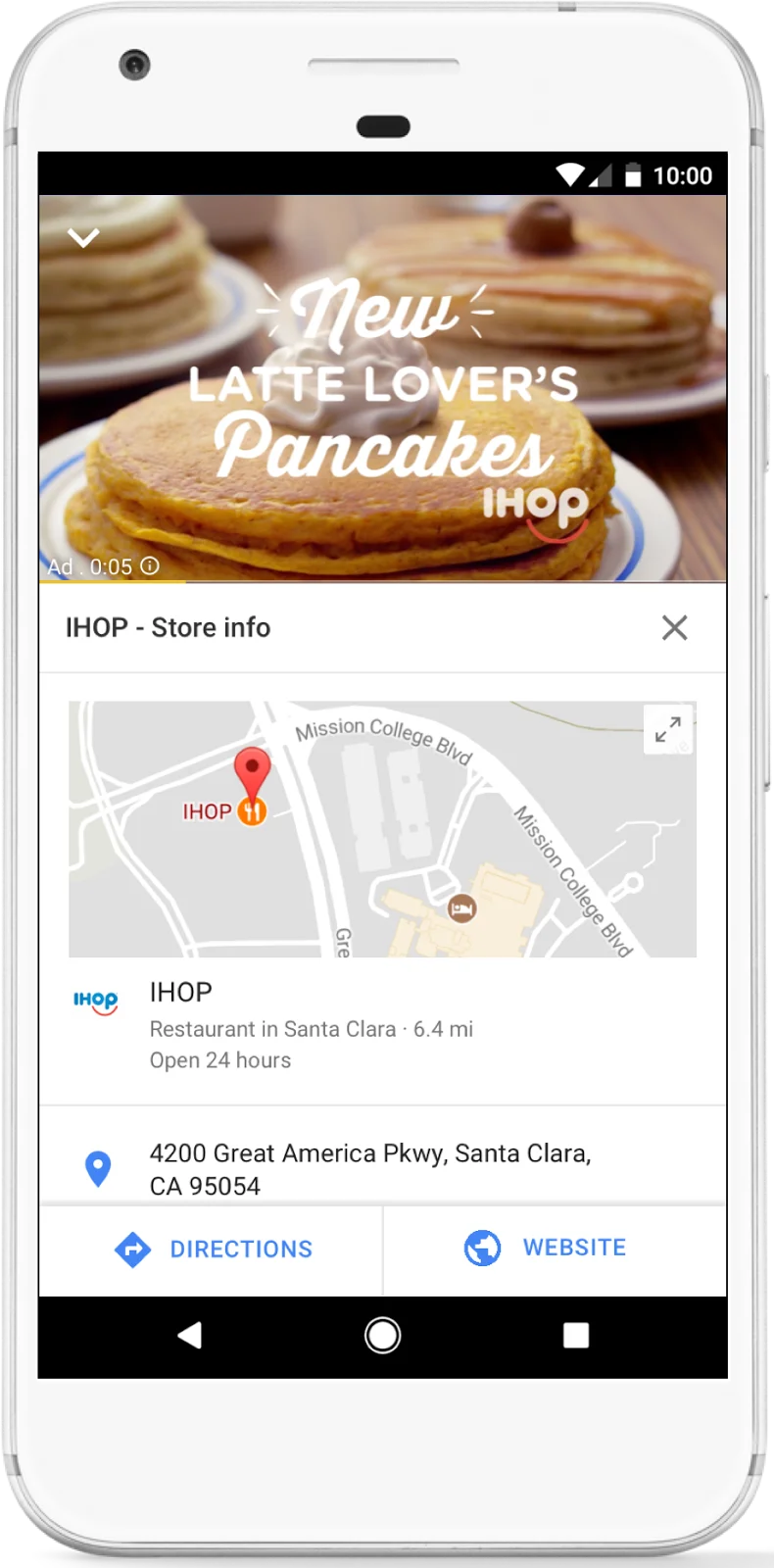 An example location extension on YouTube featuring IHOP's address and contact information.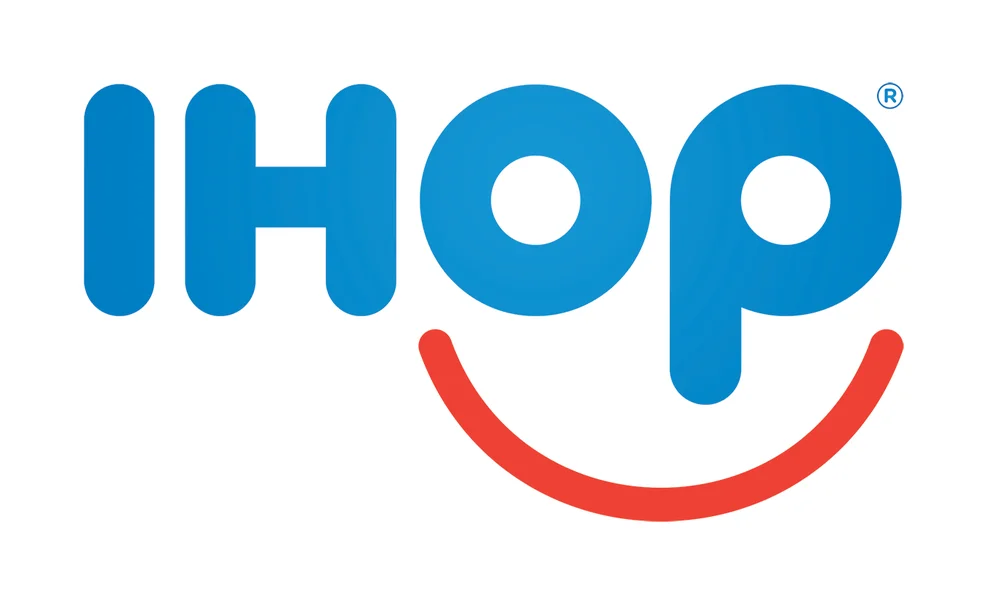 Says Darrin Kellaris, Executive Director, Marketing at IHOP, "Video has been an integral part of our digital strategy to optimize guest interactions online with relevant and distinctive content. We were happy to partner with Google to find new ways to measure the full value of our video campaigns. Through Google's store visits solution, we gained useful consumer insights that helped us drive visits from YouTube for less than $1 per guest. Insights like this have given us an innovative way to measure business impact beyond standard brand metrics and to understand how video helps drive lower-funnel actions. This is something we'd like to see become more prevalent across all media partners."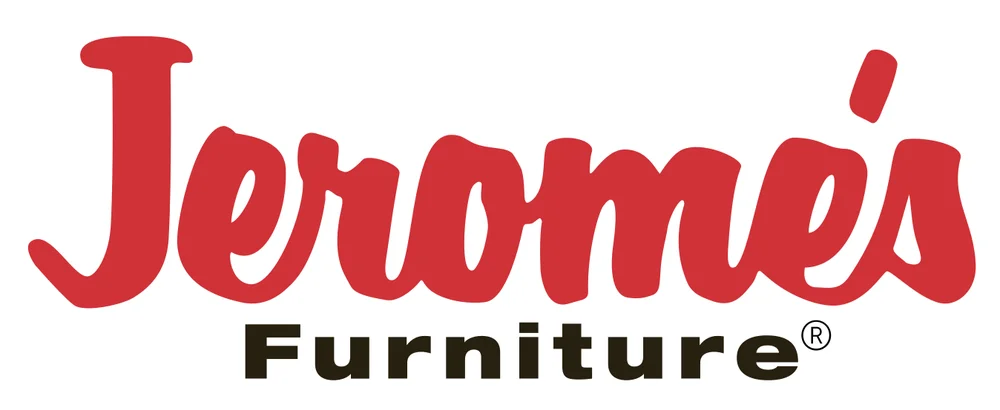 Jerome's Furniture has included store visits in their Search measurement and optimization since 2015. It is now using location extensions and store visits for YouTube to drive more customers into stores and understand offline performance across channels.

Elgiganten, a Swedish electronics retailer, turned to video to help drive its omnichannel marketing strategy. After the first half of 2017, the company found that its video campaigns brought 6-10% of users who viewed its ad on YouTube to its stores. Overall, the brand has seen an 8.8% increase in its sales, and learned that its mobile search traffic delivers a 21% higher return on ad spend on mobile phones versus desktop.
Engage local consumers on sites and apps across the GDN
Earlier this year, we fully rolled out location extensions and store visits measurement to campaigns on the Google Display Network (GDN). Now, you can reach more nearby customers when they're ready to buy and get a better understanding of your offline performance across channels. Advertisers large and small across industries have seen success using display ads to drive customers to their physical businesses—even those who usually depend on traditional offline campaigns, like catalog and circular ads.

Lawson, a convenience store chain with nearly 15,000 stores globally, was the first advertiser in Japan to use store visits to measure the full value of its display ads. Historically, the company focused most of its advertising on offline campaigns. After testing store visits for Display, the brand learned that mobile ads were more effective and cost-efficient at driving foot traffic to their stores, saving them 45% more in costs per visit compared to desktop and tablet ads.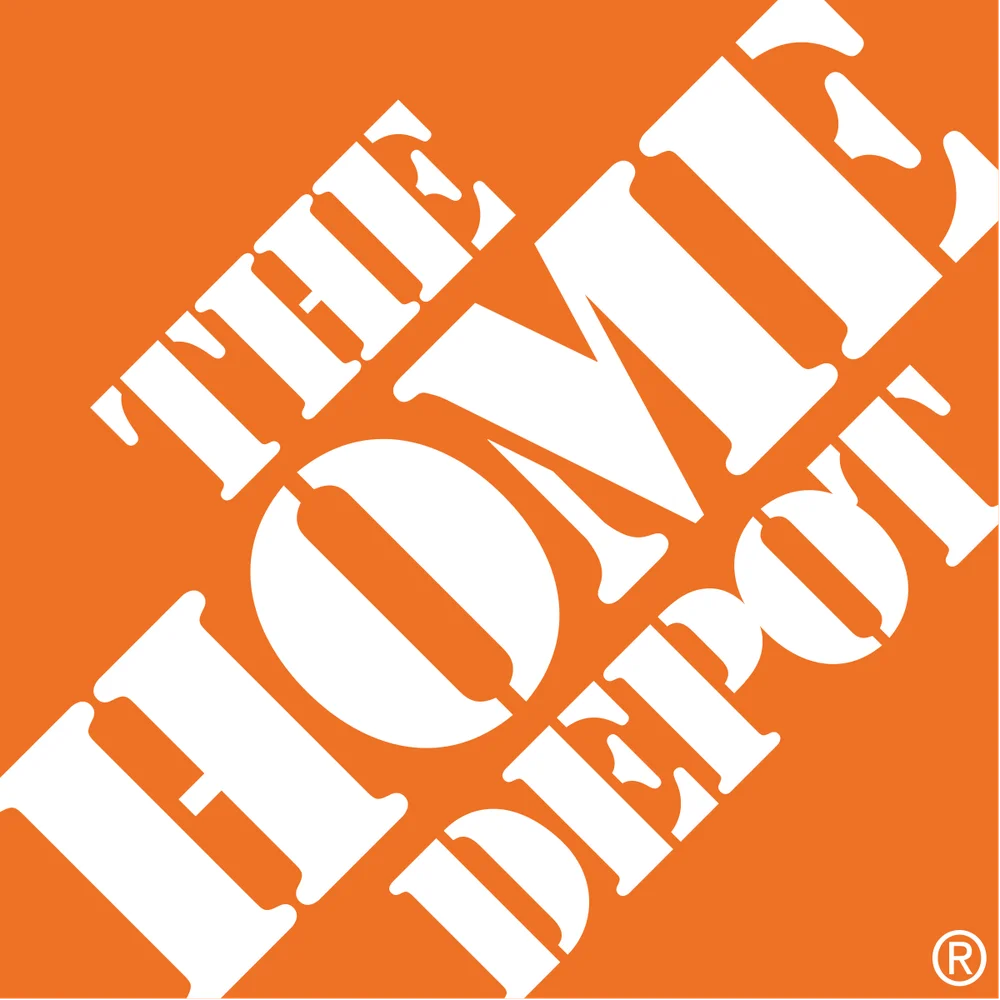 The Home Depot Canada, Canada's leading home improvement retailer, used store visits insights to learn that 18% of people who clicked on its display ads visited a store within 30 days. It also discovered that 50% of these customers made an average in-store purchase of $65 Canadian dollars.
In the coming weeks, we'll also begin introducing more local ad formats powered by location extensions to help people find the products they're interested in at nearby businesses. To start, we'll be rolling out affiliate location extensions for display ads, which allow manufacturing brands to show which retail chains sell their products.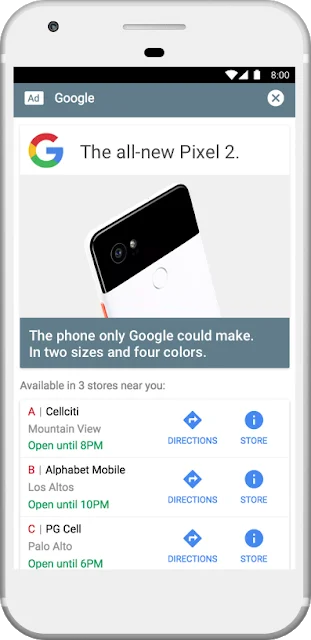 If you're focused on engaging omni-channel customers, you can now use location extensions and store visits measurement across Video, Display, Search and Shopping to drive more visitors to your business offline.
---
1. eMarketer, "Worldwide Retail and Ecommerce Sales: eMarketer's Estimates for 2016–2021," July 2017
Source: Official Google Webmasters Blog
Don't have time to manage your Google Ads, configure landing pages and analytics scripts, or worry about which version of your ad generates the best ROI? That's OK! Search Engine Pros are here to help!
Give us a call at 805-627-3255 or contact us online today.