Bard can now connect to your Google apps and services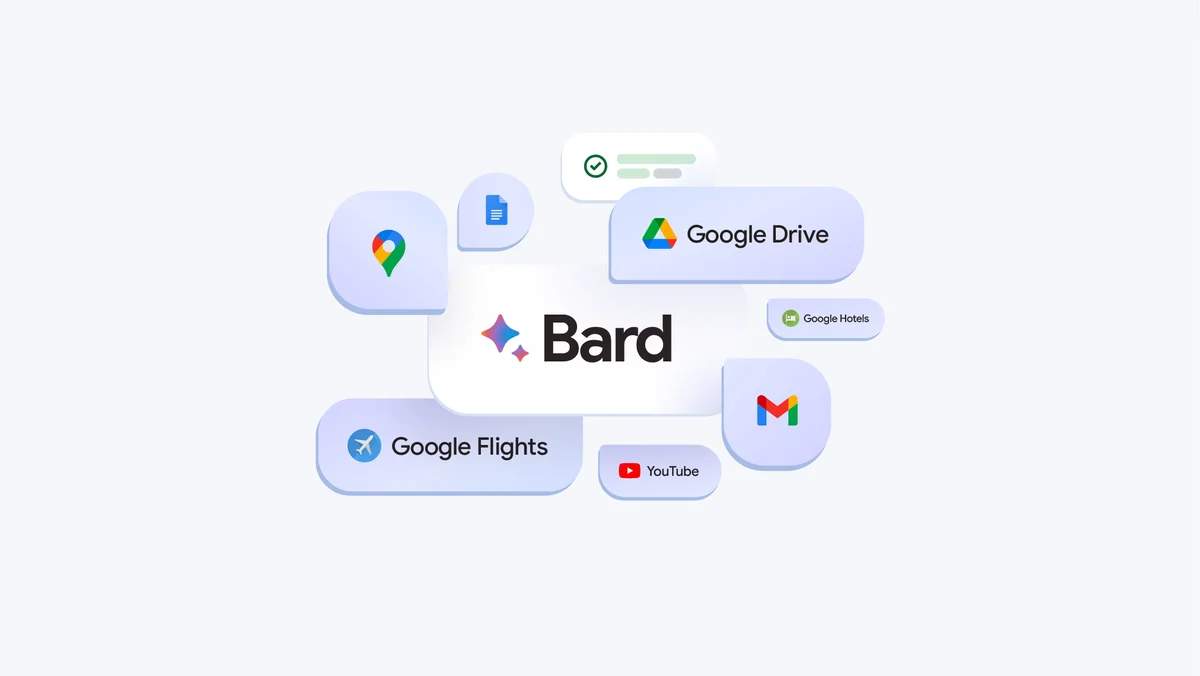 One of the biggest benefits of Bard, an experiment to collaborate with generative AI, is that it can tailor its responses to exactly what you need. For instance, you could ask Bard to start a trip planning Doc for you and your friends, draft up your online marketplace listing, or help explain a science topic to your kids. And now, Bard is getting even better at customizing its responses so you can easily bring your ideas to life.
Today we're rolling out Bard's most capable model yet. Bard now integrates with Google apps and services for more helpful responses. We've also improved the "Google it" feature to double-check Bard's answers and expanded features to more places.
Connect to Google apps and services
Today we're launching Bard Extensions in English, a completely new way to interact and collaborate with Bard. With Extensions, Bard can find and show you relevant information from the Google tools you use every day — like Gmail, Docs, Drive, Google Maps, YouTube, and Google Flights and hotels — even when the information you need is across multiple apps and services.
For example, if you're planning a trip to the Grand Canyon (a project that takes up many tabs), you can now ask Bard to grab the dates that work for everyone from Gmail, look up real-time flight and hotel information, see Google Maps directions to the airport, and even watch YouTube videos of things to do there — all within one conversation.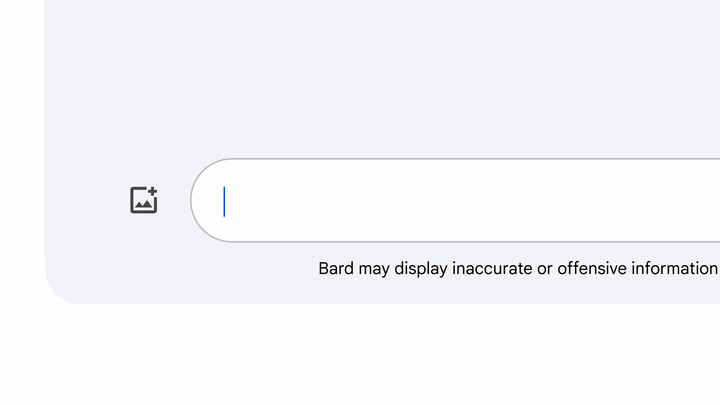 Or, imagine you're applying for a new job and using Bard to help with the process. You could ask Bard to "find my resume titled June 2023 from my Drive and summarize it to a short paragraph personal statement," and continue collaborating on your new cover letter.
We're committed to protecting your personal information. If you choose to use the Workspace extensions, your content from Gmail, Docs and Drive is not seen by human reviewers, used by Bard to show you ads or used to train the Bard model. And of course, you're always in control of your privacy settings when deciding how you want to use these extensions, and you can turn them off at any time.
Easily double-check responses and build on shared conversations
Starting today with responses in English, you can use Bard's "Google it" button to more easily double-check its answers. When you click on the "G" icon, Bard will read the response and evaluate whether there is content across the web to substantiate it. When a statement can be evaluated, you can click the highlighted phrases and learn more about supporting or contradicting information found by Search.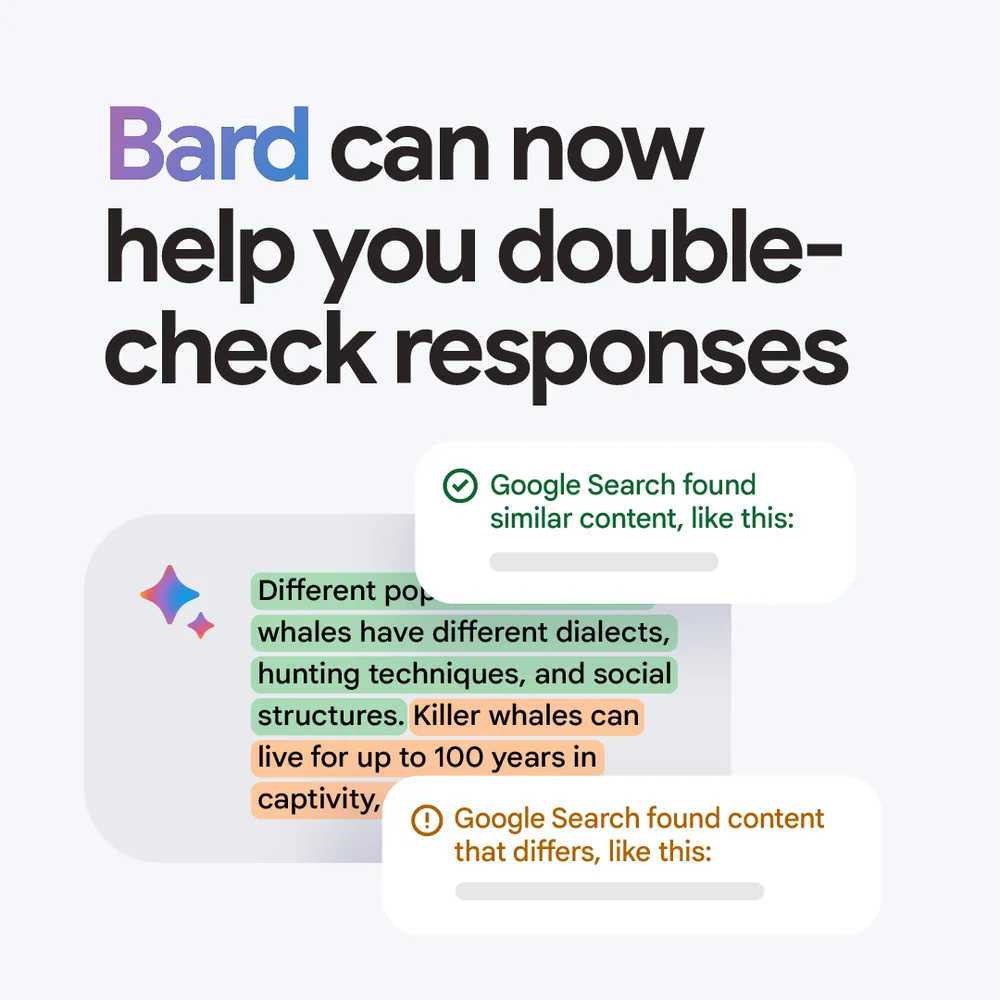 We're also making it easier to build on others' conversations with Bard. Starting today, when someone shares a Bard chat with you through a public link, you can continue the conversation and ask Bard additional questions about that topic, or use it as a starting point for your own ideas.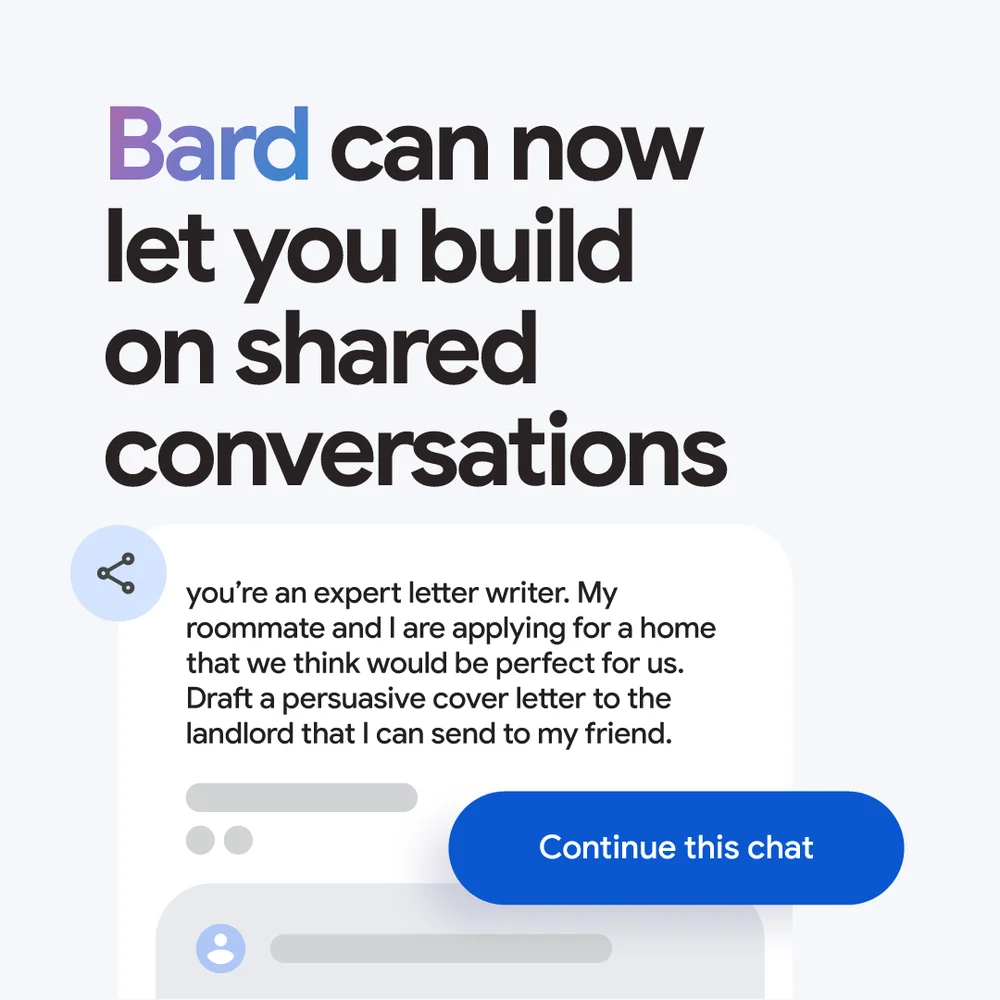 Access features in more places
As we continue to build Bard responsibly, we're now expanding access to existing English language features — such as the ability to upload images with Lens, get Search images in responses, and modify Bard's responses — to more than 40 languages.
Try our most capable model yet
All of these new features are possible because of updates we've made to our PaLM 2 model, our most capable yet. Based on your feedback, we've applied state-of-the-art reinforcement learning techniques to train the model to be more intuitive and imaginative. So, whether you want to collaborate on something creative, start in one language and continue in one of 40+ others, or ask for in-depth coding assistance, Bard can now respond with even greater quality and accuracy.

With these latest updates, Bard is more equipped to help you get all your unique ideas off the ground. Try the latest features at bard.google.com.
Source: Google Apps and Services Blog
Don't have time to manage your Google Ads, configure landing pages and analytics scripts, or worry about which version of your ad generates the best ROI? That's OK! Search Engine Pros are here to help!
Give us a call at 805-627-3255 or contact us online today.