Ads And Analytics Innovations For A Mobile-First World
The shift to mobile is no longer a change on the horizon. It's here.
Every year, there are trillions of searches on Google and over half of those searches happen on mobile. And across the millions of websites using Google Analytics today, we're seeing more than half of all web traffic now coming from smartphones and tablets.
When we asked people to describe the role smartphones play in their lives, they used phrases like "attached to my hip", "butler" and "lifeline." Smartphones have become the companion that people turn to in I-want-to-know, I-want-to-go, I-want-to-do and I want-to-buy moments throughout the day.
To help marketers succeed in this mobile-first world, we have redesigned AdWords — from the ground-up — and re-thought everything from creatives and bidding, to workflow and measurement.
We're also making it easier for marketers to bridge the digital and physical worlds. With location-related mobile searches growing 50% faster than all mobile searches, it's clear that consumers are moving seamlessly between online and offline experiences. So it's important to help marketers think this way too.
It was incredibly exciting to share new innovations with advertisers this morning at the Google Performance Summit. Below are highlights from today's announcements. You can watch a replay of the full program here.
AdWords re-imagined for the mobile-first world
Over the last several years, we've discovered that accounting for mobile and designing for mobile-first are two very different things. That's why we've completely transformed how we think about and build AdWords.
In order to enable advertisers and developers to drive more downloads of mobile apps — across Google properties — we built Universal App Campaigns. To date, Universal App Campaigns has delivered more than 2 billion downloads for advertisers, across Google Search, Google Play, YouTube, and the Google Display Network. And last week at Google I/O, we announced this campaign type is now available on iOS.
Today, we are announcing even broader changes to advertising with Google, from how text and display ads work, to the way advertisers optimize campaigns.
What do text ads look like in the mobile-first world? Mobile has revolutionized the canvas where ads live. Earlier this year, we removed right-hand side ads on desktop to improve the search experience and make it more consistent across devices. This paved the way for us to introduce the biggest changes to our text ads since AdWords launched fifteen years ago.
Optimized for screen sizes of the most popular smartphones, new expanded text ads in AdWords provide more ad space so you can showcase more information about your products and services before the click. Here are the key changes: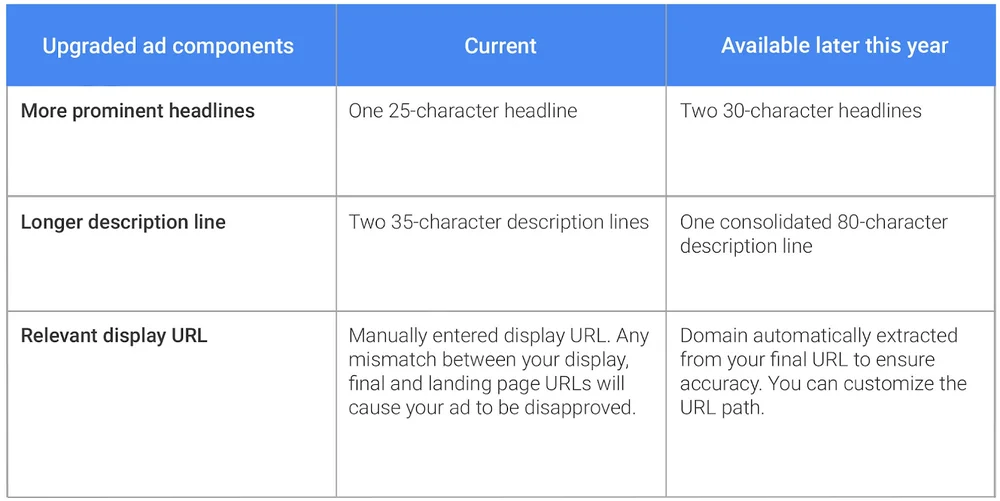 These upgrades help your ads work harder across screens, especially for the on-the-go mobile consumer that wants to know exactly what you offer before tapping into your website.
Based on early testing, some advertisers have reported increases in clickthrough rates of up to 20% compared to current text ads. We encourage you to start planning for this upgrade before it rolls out later this year.
How do display ads look in a mobile-first world? From sites to apps to videos, mobile has unlocked a universe of new spaces to reach consumers. Responsive ads for display adapt to the diverse content across the more than two million publisher sites and apps on the Google Display Network (GDN). They also unlock new native inventory so you can engage consumers with ads that match the look and feel of the content they're browsing. Simply provide headlines, a description, an image, and a URL — and Google will automatically design these beautiful responsive ads.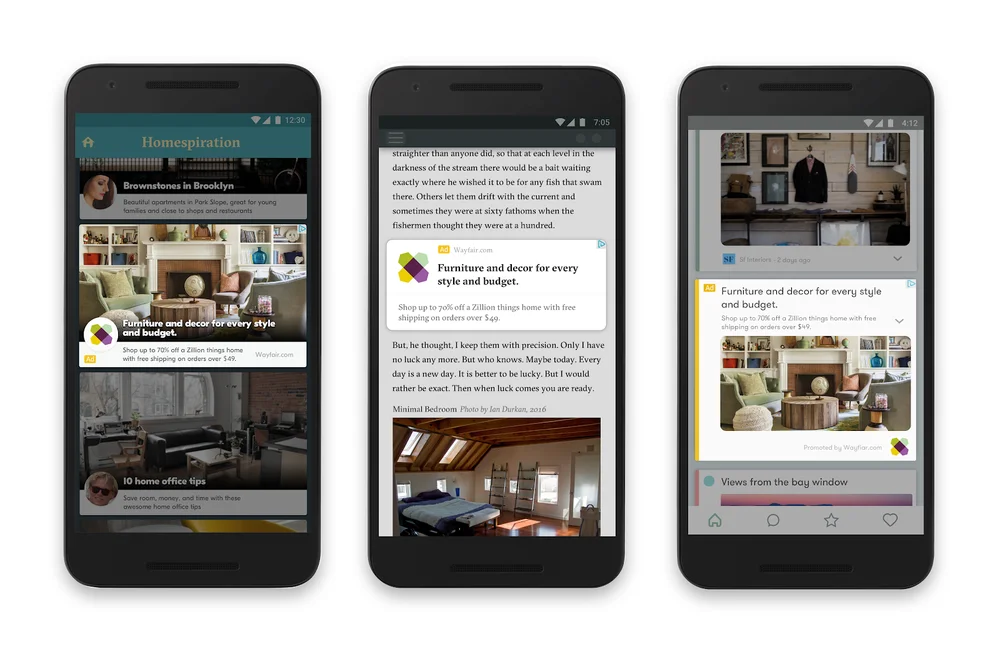 We're also extending the reach of GDN remarketing campaigns by giving you access to cross-exchange inventory, which includes more websites and apps around the world. With this inventory, European airline SAS drove about 20% more conversions at a similar CPA for its remarketing campaigns. Learn more
What does bidding look like in a mobile-first world? Marketers need more control and flexibility to optimize bids on specific devices. In the next few months, you'll be able to set individual bid adjustments for each device type — mobile, desktop and tablet. This lets you anchor your base keyword bid to the device most valuable to your business and then set bid adjustments for each of the other devices. You will also have a wider range to adjust bids, up to +900%. With more controls, you can now optimize with greater precision while keeping things simple with a single campaign that reaches consumers across devices.
Mobile is local, bridging digital and physical worlds for marketers
Nearly one third of all mobile searches are related to location. People's online and offline worlds are colliding — whether you're researching restaurant ideas for dinner on Friday night or looking for a store that sells rain boots in your size.
To help advertisers reach consumers searching for physical business locations, we're introducing new local search ads across Google.com and Google Maps. Advertisers using location extensions will be able to prominently showcase their business locations when consumers search for things like "shoe store" or "car repair near me." Learn more
We're also investing in more branded, customized experiences for businesses on Google Maps — geared towards helping you increase store visits. We're currently developing and experimenting with a variety of ad formats on Maps that make it easier for users to find businesses as they navigate the world around them. For example, Maps users may start to see promoted pins for nearby coffee shops, gas stations or lunch spots along their driving route. Local business pages are also getting a brand new look — to encourage consumers to explore your store before they even arrive, we're adding new features like special offers and the ability to browse product inventory.
With online ads bringing more people to your storefronts, how do you measure the impact?
AdWords is the largest online-to-offline ad measurement solution in the world. In fact, since AdWords store visits were introduced two years ago, advertisers have measured over 1 billion store visits globally.

Businesses across a variety of industries around the world are using insights from AdWords store visits to measure the impact of online ads on offline activity. Nissan UK discovered that 6% of mobile ad clicks result in a trip to a dealership, delivering an estimated 25x return on investment. See the full story here.
Succeeding in a mobile-first world
As consumers live their lives online and blur the lines between online and offline, it's more important than ever to build your business for mobile. Google's building for this mobile-first world as well and we're excited to go on this journey with you.
To see the full range of ads and analytics innovations announced this morning, watch the Google Performance Summit keynote here. Also check out the new AdWords Marketing Goals site to learn how to use ads solutions to meet your business objectives.
Source: Official Google Webmasters Blog
Don't have time to manage your Google Ads, configure landing pages and analytics scripts, or worry about which version of your ad generates the best ROI? That's OK! Search Engine Pros are here to help!
Give us a call at 805-627-3255 or contact us online today.