Why join Search Engine Pros?
There are many PPC marketing agencies to work for. At Search Engine Pros we're always looking for talented and creative individuals to join our diverse team. We offer opportunities for growth, fun, and a healthy work-life balance.
We're committed to cultivating an inclusive workplace that promotes and values diversity. Everyone is welcome—creating an environment where our team members, clients, and guests are comfortable being their authentic whole selves. This unites us in our shared commitment to excellence, innovation and social responsibility.
Check out our job openings below and apply today!
Below is a list of positions we are hiring for:
Sales Account Executive Overview:
Search Engine Pros is made up of passionate and driven people.
Our team solves complex PPC marketing problems for large and small brands.
As a Sales Account Executive you'll be in the driver's seat of the agency, nurturing new sales leads and selling them on Search Engine Pros services and approach to solving their digital marketing challenges.
Selling PPC services is a nuanced skillset and we're looking to bring on a team member that has experience managing PPC campaigns or selling PPC services. The ability to take a prospect through the sales process requires a deep understanding of how PPC campaigns operate.
The sales approach is consultative and each pitch is customized for every brand's unique challenges. It's important that you excel at consultative selling.
Besides technical skill and industry experience, we're looking for account executives who are highly motivated, passionate and eager to go above and beyond the call of duty.
Responsibilities
Build a pipeline of prospects in need PPC services
Nurture leads through a sales pipeline
Call lists of warm prospects
Email lists of warm prospects
Learn our various pricing options
Develop sales scripts
Meet with prospects in person and via zoom calls
Qualifications
Desire to grow professionally and personally in a sales role
Selling or managing PPC / paid social campaigns (1-3 years)
Worked in a sales organization (1-3 years)
Has experience managing lead process in a CRM (Hubspot/Salesforce)
Excellent presentation skills
Excellent writing skills
Human Resources Director
Search Engine Pros is looking for an experienced HR professional to join our team and shape the future of the agency. This is an opportunity to build an entirely new program. You'll be an essential part of our leadership team, tasked with not just bringing on the future faces of the company, but also with preserving and building upon our great company culture.
The ideal candidate will act as a team member champion and a leader of change. You will plan, develop, organize, implement, direct and evaluate the organization's human resource function and performance.
Responsibilities
Prepare and manage job postings and recruitment processes
Develops organization strategies by identifying and researching human resources issues.
Implements human resources strategies by establishing department accountabilities, including talent acquisition, staffing, employment processing, and compensation.
Guides management and employee actions by researching, developing, writing, and updating policies.
Accomplishes special project results by identifying and clarifying issues and priorities.
Complies with federal, state, and local legal requirements by studying existing and new legislation.
Support general HR processes including onboarding, orientation, performance management, exit interviews and compliance
Strategic perspective combined with creativity to create experiences that resonate with our employees and foster their growth
Ability to manage the people operations function and the talent/recruiting function
You are flexible and quick to adapt to changing timelines and deliverables
Cultural competence and ability to collaborate with a wide range of individuals
Qualifications
2+ years of people operations/HR experience, including 1+ years in a leadership role, preferably at a high-growth companyDevelops organization strategies by identifying and researching human resources issues.
1+ years experience successfully managing at least 2 direct reports
Outstanding written and verbal communication skills
Self-directed works with minimal supervision
Junior Account Manager
Search Engine Pros Junior Account Manager is the first step into campaign management. We are not expecting you to be a PPC guru (although experience is a plus!), but in this role you will learn how to be proficient at managing PPC campaigns through training and first hand experience.
When you start as a Junior Account Manager, you will be expected to complete a training program that will arm you with the knowledge you will need to begin managing client's accounts. As you grow, you will be expected to support day-to-day communication across client and media teams, as you will be first-hand managing ad accounts. You will be responsible for managing the tactical execution and reporting across all channels, in addition to creating workflows to ensure objectives are met on time.
Above and beyond the desire to learn, we're looking for a Junior Account Manager who is highly motivated, passionate, and eager to go above and beyond the call of duty.
Responsibilities
Reporting to clients and team members
Calculating investment returns using a variety of formulas and KPI's
Regular client communication via video call and email
Researching and understanding various client industries
Using tools such as Excel to analyze performance data
Management of Google Shopping campaigns
Management of paid search campaigns (Google, Microsoft)
Management of Google Merchant Center feeds
Qualifications
Ability to meet deadlines
Must be extremely organized and detail-oriented
Excellent verbal and written English skills
Basic data analysis skills and statistical knowledge
Senior Account Manager
As a senior account manager, you'll be in the driver's seat and are highly proficient in the digital advertising platforms we manage for our clients. Working alongside the account executives, senior account managers are responsible for coordinating client campaign deliverables, and working with other team members on multiple projects concurrently.
A strong candidate will be an overall excellent communicator and a thought leader. For this role, we are looking for a candidate that is proficient in Google Ads, Microsoft Ads, and Google Analytics. A senior account manager is expected to lead Junior account managers and provide guidance and support for the day-to-day management team. You will be responsible for your clients and ensuring campaigns are delivering expected outcomes.
Responsibilities
Data analysis and data manipulation
Managing complex paid search and paid social campaigns across a wide range of industries
Managing Google shopping campaigns and Merchant Center product feeds
Calculating investment returns using a variety of formulas and KPIs
Using tools such as Excel to analyze performance data
Management of Google Shopping campaigns
Conducting market research to better understand client industries
Reporting to clients and to team members
Regular client communication via phone and email
Creating, designing, and delivering client presentations
Qualifications
Ability to meet deadlines
At least 2 years of experience with Google Ads and Microsoft Ads, conversion tracking and reporting
Google Analytics expertise
Google Tag Manager (or similar) experience
Facebook Ads management experience
Must be extremely organized and detail-oriented
Excellent verbal and written English skills
Basic data analysis skills and statistical knowledge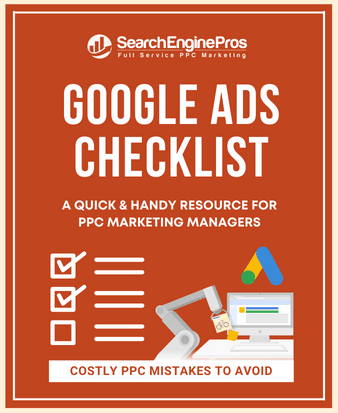 ❝ We rely on Search Engine Pros to keep our limo company listed in the top of the results, and always have solid leads coming from the Google Ads campaign thanks to their help. ❞